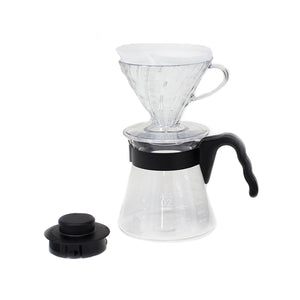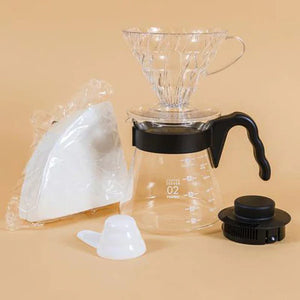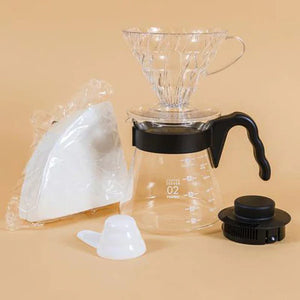 Hario V60 Pour Over Starter Kit
For those wanting to try pour-over coffee this is your ticket! The Hario V60 Pour Over Starter Set includes the iconic V60 Plastic Dripper and all the basic essentials. Brewing is fairly quick, about 3 minutes, and its minimal design allows for easy storage and cleaning. It's the perfect pour-over starter kit or gift.
Set Includes;

V60 Plastic Coffee Dripper 02

V60 Glass Coffee Server 02, 700ml
V60 White Paper Filters 02 (

VCSD-02B), 100ct

Plastic Coffee Scoop


Pro Tip: Don't forget to add a gooseneck pour-over coffee kettle for control over your pour. 
V60 02 Features
Small footprint so it's great for brewing a strong cup of coffee in small spaces.
Spiral ribs allow air to escape so coffee grounds can maximize.
Heat resistant and eco-friendly Hario glass server.

Easy to clean.
About the Brand
If you're looking for an eco-friendly coffee brand then Hario checks the box. Founded in Tokyo in 1921 Hario initially started creating heatproof glass for medical and laboratory uses. After years of research, they created eco-friendly glass using 100% natural materials. Their passion to be environmentally friendly didn't stop there, they showed the industry that glass can be melted using electricity instead of oil proving that glassmaking can be pollution-free helping to eliminate smoky factories from harming the planet.